NC Chamber Names Rep. Ted Davis, Jr. a 2019 Jobs Champion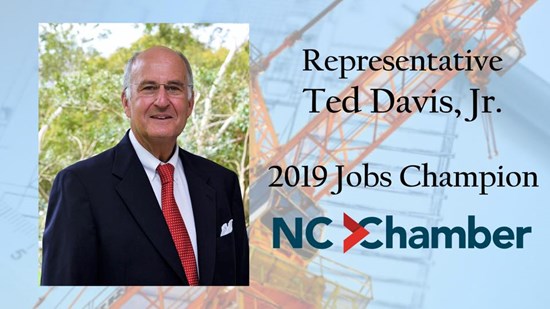 The NC Chamber recently named Rep. Ted Davis, Jr. a 2019 Jobs Champion in its annual How They Voted Report. How They Voted details lawmakers' voting records on key bills identified as critical to preserving and enhancing a positive climate for business and job creation in North Carolina.
"I am honored to once again be named a 'Jobs Champion' by the NC Chamber." Rep. Davis. "I remain committed to strengthening North Carolina's competitive footing, creating jobs, and securing our economic future."
"The 2019 legislative session saw a number of successes for North Carolina' job creators and communities and we are grateful for Rep. Davis's leadership in promoting pro-growth policies," said Ray Starling, general counsel at the NC Chamber. "We appreciate that Rep. Davis stood up for the ideas that will fuel our state's competitive business climate and grow our world-class workforce and we look forward to continuing to work with him in the future."